Configuring Virtual Port
Port Properties
To configure properties of the virtual COM port on the server side, select required port in the tray menu and click Port properties.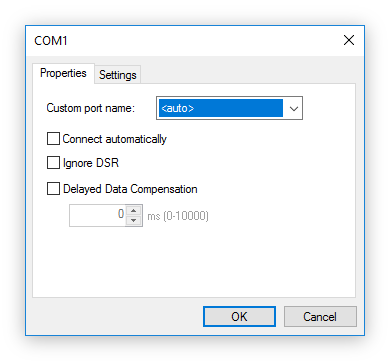 Custom port name

Custom port name can be specified before connecting the port. By default the program will try to create virtual serial port with the same name as physical have.

Serial Port for Remote Desktop supports COM ports overlapping. It means that virtual serial port can have the same name as existing physical COM port. If overlapped virtual serial port is created, it will be accessed instead of physical one.

Connect automatically

If enabled, the port will be connected automatically every time you login to the remote desktop session.

Ignore DSR

if enabled, DSR signal will be ignored.

Permanent port

if enabled, virtual serial port will be created automatically at each system startup.

Delayed data compensation

May be useful for troubleshooting of some problem devices.
Fixed Port Settings
There are some communications applications that open COM ports with "hard-coded" port settings (e.g. bits per second or flow control) and there is no standard way to change these settings. If a serial device uses other settings, this may lead to incorrect working of the whole system. In such case you can use fixed COM port settings to override settings used by communications application.